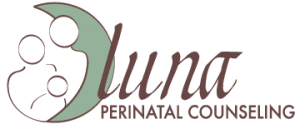 Welcome to Luna Perinatal Counseling
Luna Perinatal Counseling was established to support women, couples and families in the earliest stages of parenting. The perinatal period refers to the time encompassing pregnancy and the first postpartum year. The perinatal period is the time in a woman's entire lifespan in which she is most likely to experience depression or anxiety. Having an infant or young child can be incredibly rewarding; it can also be incredibly complex and challenging.
Becoming a parent brings many changes to identity, emotion, communication and the balance between various roles. This can often lead to strong emotions, changes in important relationships, or barriers to utilizing previously helpful coping tools.
Whether you are pregnant and looking toward becoming a parent, are in the process of adjusting to a first baby, or are restructuring your family as you welcome an additional child, Luna Perinatal Counseling is here to provide support during these important transitions.
Providing support throughout pregnancy and early parenting.
Jen Perfetti, MA, LPC
2453 Atwood Avenue
Madison, WI 53704
(608)354-3238

Services | Fees & Insurance | Biography | PPD Screening Tool